Tactical Positioning
The current resilience of equity markets is based, in part, on bond markets staying relaxed despite the increase in inflation. We remain neutral to slightly overweight equities, as we believe that the biggest factors behind the rise in inflation have started to diminish. In short, commodity prices are rolling over and supply chain bottlenecks are starting to improve. Already, industrial metals, such as aluminium and iron ore/steel, have sustained large falls, whilst oil and gas prices seem to have hit upside resistance levels, with natural gas falling 14% in the last week. Supply lines including haulage, warehousing and freight seem to be easing and the Global Container Index seems to have topped out, falling consistently over the last four weeks.
Market Moves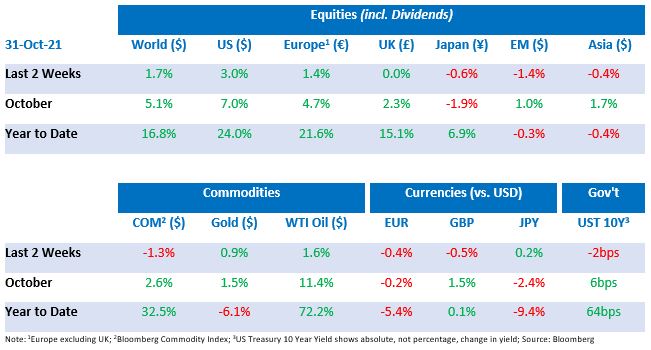 2-year government bonds have moved to price in interest rate increases in 2022
You might not think so from the green numbers above, but markets have been in a nervous, febrile mood, which has produced a testing fortnight for long-only investors. Bonds have held markets' attention more than equities despite it being the third quarter corporate results season. Government bonds have moved to price in anticipated interest rate rises, even in markets with comparatively dovish central banks, reflecting expectations of higher inflation across the major economies.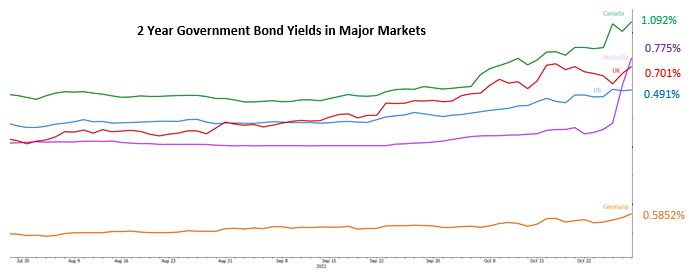 Concerns about higher inflation are growing
Since the summer, market consensus has moved from supporting the 'transitory' view of higher inflation to fears of stickier inflation. Those in the 'transitory' camp argue that rising prices are temporary, related to one-off factors such as higher energy prices and supply chain issues which will be resolved. Those in the 'inflationist' camp believe that extraordinary money creation and fiscal stimuli combined with trade disruption, populism and shortages (of both goods and labour) will lead to higher wage demands and higher consumer prices for longer. There are no certainties, but we are mindful of both possibilities and positioned accordingly.
Australian bond moves
Owing to the inflation dynamics, we have seen some remarkable price movements in the usually stable world of developed sovereign bonds. In Australia, for example, not usually the centre of the bond market's attention, the Reserve Bank of Australia's yield target of 0.1% for the April 2024 bond was not seen as credible by traders who forced the yield to 0.78% at the close on Friday, up from 0.15% on Wednesday morning. That might not sound that interesting to equity investors, but Deutsche Bank calculate this to be (for the statistically inclined) a six standard-deviation move or – for the rest of us – a one in 30-year event.
The pace of interest rate hikes is expected to be slower in other areas (with the eurozone the slowest)
There is clear international divergence in terms of central banks' policy responses to higher inflation expectations, and these run along a spectrum. At the hawkish end, some emerging market central banks are already increasing rates. The UK, Canadian and Australian bond markets have moved to price in rate hikes within six months. In the US, where tapering purchases of fixed income securities is expected at the Federal Reserve's meeting this week (or in December), rate hikes are not expected until the second half of next year. Finally, in the Eurozone, where inflation has been far behind target for many years rate, hikes are not expected until sometime after 2022.
Equity earnings growth is strong, and markets are hitting all-time highs
In equities, the third quarter corporate results season has provided cheer for equity investors with a higher than average 82% of S&P 500 companies that have reported so far beating analysts' forecasts, with average earnings growth of 36.6%. The main indices are around all-time highs with some achieving new records over the fortnight.
Fossil fuels may have short-term support
At the same time as the run-up to the all-important COP26 climate summit, economies are straining under the pressure of higher energy prices, for which the likely short-term solution will be an increase in oil and gas production. The OPEC+ cartel meets next week which will be closely watched by global investors.
US and Japanese political shifts decide the extent of forthcoming fiscal stimuli
President Biden abandoned his prior spending plans after failing to gain agreement in Congress due to opposition, including from his own Democrat colleagues. His wafer-thin majority makes it difficult to pass legislation. In Japan, Prime Minister Kishida's Liberal Democratic Party held its dominant position in Parliament. Kishida is thought to be a stimulus enthusiast, so markets are hotly anticipating fiscal policy announcements. The Nikkei 225 Index closed Monday up 2.6% on the news.
Economic Updates
Broadly speaking, macroeconomic data were mixed, reflecting a continued recovery, combined with some issues related to supply chain difficulties. In the US, the services Purchasing Managers Index ("PMI"), consumer indicators and initial jobless claims all outperformed market consensus. Whereas, industrial production, the manufacturing PMI, the core PCE price index and quarterly GDP growth disappointed. In the Eurozone, the manufacturing PMI, consumer confidence, Eurozone/German Consumer Price Index ("CPI"), the German manufacturing PMI, German GDP and German employment were above market consensus, while the Eurozone services PMI and German services PMI were below market. In the UK, the services and manufacturing PMIs together with Retail Price index beat market expectations, while CPI, core and headline retail sales, consumer confidence and producer prices underperformed.
Download the bulletin here.