Tactical Positioning
In terms of tactical moves over the last few weeks, we have been reflecting on Eurozone economic policy which we discuss below. Our sense is that it may be difficult for European equity markets to recover further against a background of stagnant growth regionally, even though valuations remain reasonable. As a result, we are trimming European exposure in a number of portfolios following a solid bounce of over 15% in Eurozone equity markets so far this year. Our plan is to redeploy the proceeds, mainly in the Asia Pacific ex-Japan region which not only has below average valuations, but a clear catalyst for potential outperformance should a reasonable trade deal be struck between China and the US in the coming weeks.
Market Moves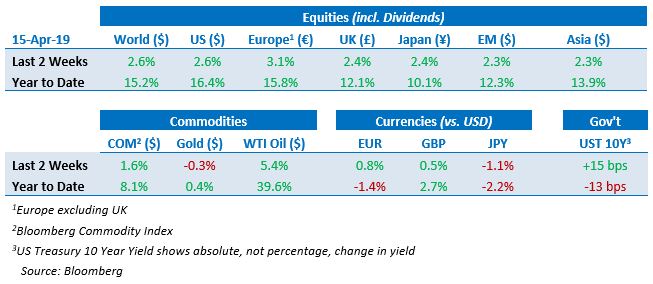 Equity markets had another good fortnight, with the MSCI All Countries World Index now up 15.2% for the year in US dollars, 12.0% in sterling and 16.6% in euros.
Following the recent European Central Bank (ECB) meeting, Draghi indicated that he is prepared to respond to the Eurozone's recent economic slowdown by saying that the bank was 'fully committed' to supporting growth to a level consistent with hitting its inflation target 'without undue delay'. He said that the bank has 'plenty of instruments' with which to react to economic difficulties in order to avoid a repeat of the 2011 economic setback. Other topics of discussion at the ECB meeting included an agreement to analyse the effect of negative interest rates on European banks and the nature of the TLTRO 3 (targeted long-term refinancing operation) which will be confirmed by June this year.
Brexit discussions have, as usual, dominated UK parliamentary discussions over the past two weeks. Theresa May and Jeremy Corbyn have been engaged in, what the latter called, 'constructive' talks, which exacerbated tensions between the Prime Minister and the eurosceptic European Research Group (ERG) within her party. Brussels granted an extension to Britain's planned departure from the EU which will now take place by 31st October at the latest. This delay means that the UK could participate in the EU elections in May, unless a deal is sanctioned by parliament before then. EU elections would provide Nigel Farrage's new Brexit Party with a platform to criticise the government's handling of negotiations and add further fuel to UK political flames.
Other key international negotiations seem to be having more success. American and Chinese officials have made 'good headway' in their trade negotiations, according to National Economic Council director, Larry Kudlow, and the two economic giants are getting 'closer and closer' to an agreement, with the Chinese acknowledging their problems with intellectual property theft and forced transfer of technology.
President Trump continued his war of words with the US Federal Reserve ("Fed") Chairman, Jay Powell, by saying that 'the Fed should drop rates' and instead of quantative tightening, it should 'actually now be quantative easing'. The attacks continued over the weekend with the President tweeting 'If the Fed had done its job properly, which it has not, the stock market would have been up 5,000 to 10,000 additional points'. At a Democratic Party retreat to address concerns about the Federal Reserve's independence, Jay Powell reiterated that the Fed 'doesn't consider political pressure in any way'.
Economic Updates
The quarter started on a positive note with the Chinese Manufacturing Purchasing Managers Index (PMI) rising to 50.5 from 49.2, the biggest increase since 2012 and beating all consensus estimates. A stronger-than-consensus US Manufacturing Institute of Sales (ISM) number (55.3 vs 54.5 expected) was also supportive of equity markets at the beginning of April. The UK PMI was surprisingly strong at 55.1 vs 51.2, however stockpiling was cited as a big reason for the jump.
European Services PMI was revised upwards for March to 53.3 which indicates that the performance of the Eurozone domestic economy is satisfactory. This is in stark contrast to the German Manufacturing PMI, which suffered its deepest downturn outside of the Global Financial Crisis. German GDP growth forecasts for 2019 have been revised down to 0.8% (from the 1.9% forecast in September 2018) and Italian growth from 1.0% for the year to just 0.1%. The IMF reduced its global growth forecast for the third time in six months, by 0.2% to 3.3%, which would be the weakest since 2009.
On a more positive note US payrolls data was strong, with 196,000 jobs added in March versus 177,000 expected. However, hourly earnings growth fell from 3.4% to 3.2% year-on-year.
The March Federal Open Markets Committee (FOMC) minutes, released on 10th April didn't have a significant impact on equity and bond markets, but they did highlight the Fed's openness to being pragmatic on future interest rate moves. Some members mentioned that an interest rate hike later in the year may be necessary, although future conditions would influence any decision. By contrast, several members voiced concerns about the impact of prolonged low interest rates on financial stability.
Download the bulletin here.