Tactical Positioning
We wrote in the last bulletin that a number of factors provide support to equity prices with high dividend yields relative to interest rates being one of them. Since then, there has been a solid rebound in markets and sentiment has improved. In the short-term, investors will now move their focus to the US Federal Reserve's meeting on the 18th and 19th June which will address the current level of US interest rates. We don't foresee a cut just yet, but the scene is set for easing in the second half of the year. In addition, the heads of the G20 leading economies meet in Osaka on the 28th and 29th June and there is speculation that an attempt will be made to re-boot the US-Chinese trade talks. Optimism is building, errant 'tweets' notwithstanding, and this might support the markets further in the coming days.
Market Moves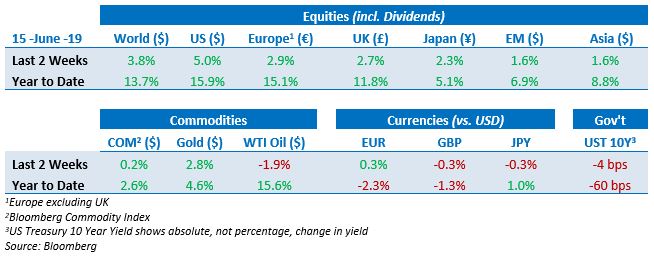 Equity markets, led by the US, reacted positively to the shift in US interest rate expectations, outweighing fears of the economic impact of a trade war. We have witnessed a dramatic shift in US Federal Reserve ("Fed") rhetoric from 'restrictive' in September 2018 to 'patient' in March 2019, with an even more dovish statement expected at its meeting this week. The market, as indicated by Fed funds futures, now points to an 80% probability of an interest rate cut in July.
Despite full employment in the US and healthy earnings growth last year, policy makers are aware that further economic expansion at this late stage in the cycle will be harder to achieve if companies are unwilling to deploy capital amid escalating trade war tensions. The US 10-year Treasury yield fell by four basis points over the fortnight, to 2.09%, in anticipation of slower economic growth. Continuing with the theme of central bank dovishness, European bonds rallied over the fortnight, pricing in further accommodative policies from the European Central Bank ("ECB"). The ECB is expected to be sensitive to trade war pressures, the Fed's change in stance and weak European economic indicators.
Oil fell by 1.4% over the fortnight as OPEC cut its forecasts for this year's global oil demand growth to 1.14 million barrels, 70,000 barrels per day fewer than expected. Last week, OPEC stated that recent 'escalations in trade disputes are expected to lead to lower economic growth rates' and a report from the American Petroleum Institute revealed that US crude stockpiles increased by a further 4.85 million barrels last week.
Sterling fell 0.2% versus the dollar over the period, reflecting continued Conservative Party leadership and Brexit uncertainty in the UK and a weak GDP reading (-0.4% month-on-month). The latest Purchasing Managers Index ("PMI") report for the UK came in at 49.4, disappointing expectations by 2.6 points and falling 3.7 points below April's number. A reading below 50 signals contraction and, notably, the last time the UK PMI went below 50 was in 2016, after which the Bank of England cut interest rates in response. Elsewhere, the euro strengthened modestly, and the yen weakened slightly, the latter being historically consistent with rising equity markets.
Economic Updates
Once again, President Trump commented on the Fed's policy, telling ABC News the Dow Jones 'would be 10,000 points higher', an increase of 38% from today's level, if the Fed hadn't raised interest rates last December. Trump appears to have increased economic risks through his erratic changes in trade policy. Two weeks ago, it looked as though an agreement was coming together to reset trade relations between the US and China, but hopes were dashed as Trump balked at the proposed agreement. He accused officials in Beijing of reneging on their commitments and retaliated by threatening to impose billions of dollars' worth of new tariffs on Chinese goods. He stated in an interview that he could impose tariffs 'much higher than 25%' if President Xi Jinping doesn't meet him at the G20 summit.
Although recently released US GDP data showed an annualised expansion of 3.2% in the first quarter, economists fear that the US economy will suffer from higher tariffs, with Oxford Economics estimating that if a 25% tariff is extended to all of China's exports to the US, it could result in a 0.5% hit to US GDP next year.  At the margin, softer data in certain economic indicators are already being blamed on the ongoing trade war. The US Consumer Price Index report for May disappointed expectations, coming in at 0.1% versus 0.2% expected with the 3-month and 6-month readings also falling to 1.6% and 1.9% respectively. Anecdotally, US chip maker Broadcom reported a decline in second quarter earnings, citing a broad-based fall in demand as a result of a lack of visibility on US /China trade relations and the export restrictions on Huawei (one of their largest export customers).
Elsewhere, European economic indicators remained weak over the period; the final reading of the PMI for the Euro Area was unrevised at 47.7, down 0.2 points from May. Despite the trade war, China's Consumer Price Index was in-line with consensus expectations at +2.7% year-on-year.
Download the bulletin here.