Tactical Positioning
We have not made any tactical changes over the last two weeks. For new clients with cash, we added to equity exposure during the latter part of October. For existing clients we continue to maintain a relatively neutral stance towards equities with most clients close to their long-term target or just below. It is worth noting that part of the 'tantrum' in October revolved around the path of US inflation and interest rate policy, the fear being that the Federal Reserve (FED) might raise rates too aggressively and push the US economy into recession. So far in November, US Treasury yields have actually fallen and 10 year inflation expectations have dropped back from an expected rate of 2.17% p.a to 2.00%. In other words, investors do not see inflation as a long-term problem. If the FED reacts by becoming a little less keen to raise rates, markets would almost certainly react positively.
Market Moves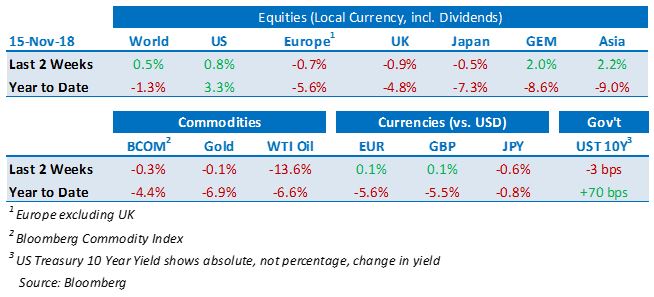 Following a difficult October, global equity markets were marginally up over the fortnight despite volatility in the period and some disparity between regions. Perhaps unsurprisingly, the worst performing market was the FTSE 100 which fell -0.9% as the Brexit debate reached a key inflection point on Wednesday when a deal was put before the Cabinet. Despite Prime Minister May's assurances that she had support from her colleagues this was far from a triumphant culmination of "thousands of hours of negotiations" and the situation quickly deteriorated. On Thursday morning two cabinet ministers and two junior ministers resigned in quick succession and Mrs May was subjected to a difficult session before Parliament. The Prime Minister appears to have united all parties, as well as Brexiteers and Remainers across the House of Commons in their contempt for the deal. It is difficult to predict the outcome, but at the moment, it seems likely that the deal will be voted down by parliament. Assets across Britain were affected by Thursday's events as sterling fell -1.65% against the dollar, banks sold off as did domestically-oriented stocks, and Gilts rallied as people fled to safe-haven assets. Generally speaking, client portfolios have limited exposure to the UK equity market and are at the bottom end of their range for sterling exposure, so they should be partially shielded from further deterioration.
In contrast to the situation in the UK, the US has managed to navigate a significant political event without many surprises. As widely forecast, the Republicans kept control of the Senate whilst the Democrats took the House during the US mid-term elections, a result which President Trump heralded as a "huge success". Markets reacted positively to the news as the prospect of two years of gridlock is expected to maintain the status quo of good economic growth, lower taxes and strong corporate earnings. Any hope of gaining upward momentum was then dampened as 'disappointing' revenues from some of the large technology companies caused a retracement back to near October lows. Apple was a big contributor to this poor performance as it fell c.13%, precipitating 6 consecutive days of negative returns for the S&P 500 for only the third time this year (the previous two occasions occurring in October). The market rallied 1% on the last day of the fortnight however, to end in positive territory up 0.8%.
As expected, the FED decided to hold rates steady when they met on the 8th November. There were no major policy changes to report and markets still expect a 25 basis point rate rise in December as language remained hawkish in spite of the volatility seen in October. The only significant change was in the wording used when discussing business investment (CAPEX) which moved from "strong" to "moderate".
Asia and Emerging Markets were the best performing equity regions with China leading the way following a 15.6% increase in the country's exports in October from a year ago. While there is speculation that this could be due to frontloading of goods ahead of the impending increase in the tariff rate applied by the US government, it underscores the strong global demand for the country's goods despite the 10% tax currently imposed on $200bn worth of Chinese exports. There is also hope of some resolution to the trade tensions with a meeting between President Trump and President Xi scheduled at the G20 summit on 30th November. There is still much to do, however, and given the persistent trade imbalance China will likely have to concede some ground before President Trump can claim a victory.
In Europe, the situation in Italy continues to cause worries. Italian debt came under pressure following a warning from the EU that Italy would breach the bloc's 3% budget deficit limit by 2020. The Italian government resubmitted its budget on Tuesday which was little changed and will not appease the European Commission's (EC) fears. If the situation persists the EC will be forced to initiate its "excessive deficit procedure" essentially imposing fines on the Italians until they comply with the limits set. Beyond this they have limited power to force Italy's agenda and it will be up to the market to bring the country back within a sustainable deficit limit through the increasing cost of Italy's debt.
Oil has had a torrid time of late and is now firmly in bear market territory. WTI (West Texas Intermediate) was off 13.6% over two weeks and 26.4% since 3rd October on rumours of a build-up in global excess supply and increased production from Saudi Arabia, Russia and US shale producers. New Iranian sanctions came into effect on 4th November although the US unexpectedly granted sanction waivers to eight countries (China, India, South Korea, Japan, Turkey, Italy, Greece and Taiwan), allowing them to import limited amounts of crude oil without coming into conflict with US law. China's inclusion in this list is particularly interesting and hopefully can be taken as a positive sign for progressive trade talks going into the G20 summit.
Economic Updates
Following the poor equity market returns in October, robust US employment data reported early in the fortnight moved investors back to expecting a rate rise in December. The average hourly earnings rate rose 0.2% month-on-month, pushing the annual rate of growth to 3.1%. This is the first-time wage growth has exceeded 3% for a decade and pushed 10-year Treasury yields out to a two-week high of 3.21%. Any fears that this might have fed through to the US inflation data on 14th were allayed when the CPI number came in line with expectations at +0.2% for the month, leaving the annual figure down slightly at +2.1%.
PMIs were a little softer in Europe as Italy missed expectations by a significant margin. Italian services PMI was 49.2 (vs. 52 expected) representing a drop of 4.1 points from September and the first sub-50 reading (indicating a contraction) since May 2016. Elsewhere in Europe, numbers were in expansionary territory although below expectations. Notably, Germany's PMI was negatively affected by weakness in the auto industry. This can partly be attributed to new environmental regulations that are coming through and ought to be transitory.
In the UK industrial production came in ahead of expectations with an annual growth rate of +0.5% (vs. +0.4% expected). On a negative note there was a disappointing employment number as unemployment increased to 4.1%, although earnings came out stronger than expected with an annual increase of 3.2% year-on-year.
Within China, retail sales and credit data disappointed supporting the consensus belief that China's economic growth is slowing. In response to this Chinese policy makers are pushing banks to increase lending, cutting taxes and fast-tracking infrastructure projects to boost growth and they still have plenty of room for further stimulus should it be required.
Download the bulletin here.