Tactical Positioning
We have not made any notable tactical changes in the last two weeks believing that 'betting' on any single outcome from the US election is unwise. Investors remain focussed on the level of additional stimulus that the US might inject into their economy in the short term and, as ever, this will have a bearing on markets globally. As things stand today, there is an inherent belief that 2021 will bring a return to some form of normality and that rock bottom interest rates will persist for an extended period. Dividend yields in many equity markets stand at multi-year highs when compared with government bonds and this remains a major support for current equity markets.
Market Moves

It was a strong fortnight overall for risk assets, led by the US, with investors feeling more sanguine about policy changes in the event of a Biden victory in the US election. If Biden wins and the Democrats maintain control of the House of Representatives and take control of the Senate we could see a large fiscal stimulus, whilst planned Democrat tax rises and other anti-market policies may be delayed owing to COVID-19. We show below the probability of each candidate winning the election derived from the betting odds.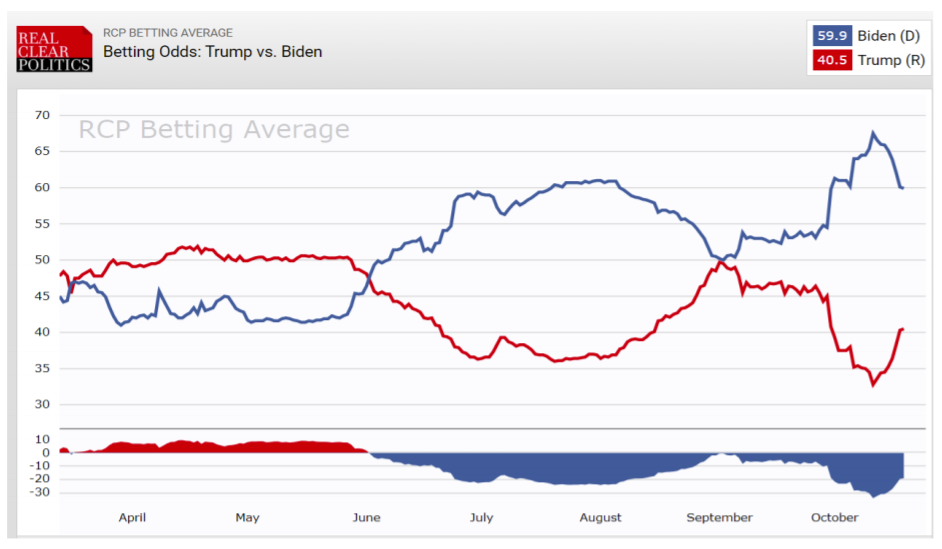 Closer to home, every major European nation is engulfed in a second wave of COVID-19 infections with a record 32,427 infections confirmed on one day in France and the UK looks likely to reach similar levels in the coming fortnight. In response, governments have returned some areas to lockdown with a night curfew implemented in several French cities and over half of England's population banned from socialising indoors. It looks like a long, bleak winter ahead for many. Brexit is fast approaching irrespective of whether agreements are in place; Prime Minister Johnson's self-imposed deal deadline of 15 October passed without an agreement and an EU summit saw the EU standing firm in demanding concessions from the UK side.
Expectations for reflationary policies under a Biden administration led to a modest rise in core government bond yields over the fortnight, but this comes in the context of a very large fall in yields so far this year. In fact, yields have traded in a very narrow range since the onset of the pandemic and the US 10-year bond yield, at 0.73%, is within 0.06% of where it finished in March. Gold benefitted from the reflationary move as well, after a tough September. The US dollar showed some weakness in line with a period of bullish investor sentiment and the potential prospect of Biden's reflationary policies.
The US Federal Reserve does not meet until after the US election, however Chairman Jerome Powell made it clear in a speech that further fiscal stimulus is required to help the economy recover from the pandemic. Agreement in Congress over a new round of stimulus has proved elusive, with the Republican Senate and Democratic House unable to agree a deal.
Economic Updates
The US monthly employment report for September was disappointing with non-farm payrolls well below market expectations, along with core CPI, wage growth and the ISM and official manufacturing Purchasing Managers Indices ("PMI"s). On the positive side, consumer confidence in the US appears buoyant, which is at least one good sign from such a consumer-oriented economy.
Elsewhere, data has also been mixed with UK wage growth and the services, construction and composite PMIs beating expectations, but unemployment, the manufacturing PMI, industrial production, and mortgage lending were disappointing. In the Eurozone, the services PMI, retail sales, investor confidence, and the German services/composite PMIs were above market expectations, however CPI, industrial production, the German manufacturing PMI and German industrial production were below market consensus.
Download the bulletin here.