Tactical Positioning
We have not made any major tactical moves recently other than slightly re-calibrating our Asia ex-Japan exposure. The outlook for the region is supported by equity valuations towards the bottom of their 25-year range and we are encouraged by the improving 'mood music' surrounding the U.S/China trade talks. Asia also benefits from a more dovish stance towards U.S interest rates and a weaker US dollar. If these factors successfully combine in 2019, Asia could offer further upside.
Market Moves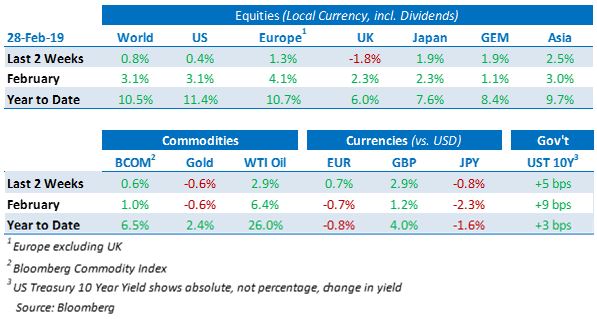 Market momentum remained positive in the latter half of February, although this was more muted than in the first half of the month. The sustained shift in sentiment in 2019 can be seen as a result of fading fears of a global recession following the Federal Reserve's (Fed) softening on the outlook for interest rates, improved sentiment regarding the US-China trade dispute, following President Trump's announcement last week that he was getting close to a deal with Xi Jingping and a broader desire from investors to participate in the strong market rally witnessed so far this year.
Notably, net inflows into US stocks turned positive in the last week of the month as US equity funds received $9.1 billion of inflows. Despite an incredibly strong market in January, overall net investment in US equity funds had remained negative for the previous 11 consecutive weeks. Although the net new investment is small in relation to the c. $90 billion of withdrawals that began towards the end of November, it suggests that the rally is now underpinned by renewed investor confidence. The S&P 500 is up 11.4% year-to-date, is trading above its 200-day moving average and is getting close to hitting the all-time high achieved in September.
Statements from the Fed continued to be supportive for markets over the period. Fed Vice Chair, Richard Clarida reiterated his focus on the risk of a flattening yield curve, whereby the interest rate on longer dated loans is close to short dated loans, as a result of falling inflation expectations. He stated that the Fed is likely to be patient and data dependent regarding rate hikes. In his statement on February 25th, he also highlighted his consideration of global risks such as a slowdown in Europe (more on which below), saying 'much of the world, especially in Europe and Japan, is really not away from crisis monetary policy and crisis mode'.
Elsewhere, oil continued its upward trajectory and is now up 26% so far this year, helped by a weaker dollar and an 8.6 million barrel drop in US inventories. As would be expected in an environment of positive market momentum, traditional 'risk-off' assets such as gold and the Japanese yen fell slightly over the fortnight. The only equity market to post a negative return over the last two weeks was the UK, which continues to be driven by Brexit news flow and was hurt by a strengthening sterling on the back of a perceived reduction in the risk of a hard Brexit.
Economic Update
Data from the US was positive over the period. The Richmond Fed Manufacturing Index rose 18 points to a reading of 16 versus expectations of five, including a large jump in new orders and the Conference Board Consumer Confidence reading jumped 9.7 points to 131.4 versus expectations of 124.9. Within the reports there were improvements in the 'present situations' components. Fourth quarter GDP in the US was better than expected at 2.6% quarter-on-quarter versus 2.2% expected. The breakdown revealed that private domestic demand was up 3.1% and consumer spending stabilised following a weak December. The Personal Consumption Expenditure Index rose at an annualised rate of 1.7% over the quarter, marginally beating expectations.
In Europe, January inflation data was mixed. German inflation rose 0.5% versus expectations of 0.6%, whilst in France, month-on-month inflation was 0.1%, undershooting forecasts of 0.3%. Inflation in Spain, however, was slightly above expectations at 0.2% and Italy showed a 0.2% contraction which was in line with expectations. The Euro Area Composite Purchasing Managers Index rose slightly above expectations, rising by 0.4 points to 51.4 versus forecasts of 51.1. Within the reading, Services jumped 1.1 points to 52.3 but conversely, the Manufacturing print fell below 50, marking a contraction and its lowest level for 68 months.
Download the bulletin here.