Tactical Positioning
In our mid-month Bulletin we mentioned the growing optimism that the G20 meeting, held at the end of last week, might deliver a ceasefire in the China/US trade 'spat'. We discuss the outcome and its impact below. However, looking at market behaviour over the last few months, it is becoming clear that monetary stimulus is the 'drug of choice' for risk assets. We are not expecting a particularly exciting year for company earnings but investors are getting support from the prospect of lower interest rates.
Market Moves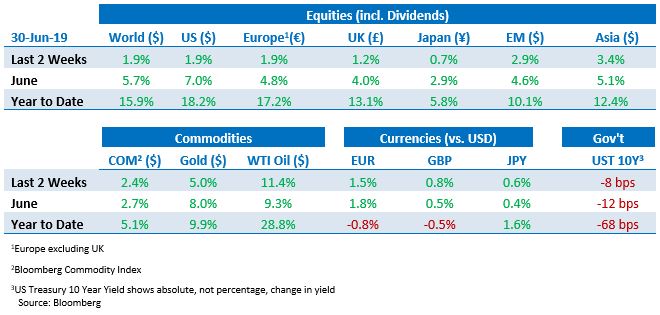 The past two weeks have seen further gains across global equity markets, mainly fuelled by expectations of interest rate cuts in the US. In a stunning reversal, markets now ascribe a 90% probability to a July rate cut. However, the high level of certainty indicated by the market belies the breadth of underlying views at the US Federal Reserve ("Fed"). Neel Kashkari of the Minneapolis Fed is in favour of a 50bps rate cut in July, while James Bullard of the St Louis Fed opposes a cut of this magnitude. Fed Chair, Jerome Powell, finally seemed to take a stand against President Trump's relentless negative commentary about the Central Bank's interest rate increases, noting that "damage arises when policy bends to political interests".
Due to expectations of interest rate cuts and falling inflation forecasts, fixed income markets have reached record high prices (and so record low yields) over the past weeks. Negative yielding debt, globally, now stands at more than $13 trillion and yields are strikingly low on the longest dated bonds in issue (Austria just issued its second 100-year bond at a yield of just 1%). US Treasury yields also dipped lower, with the 2-year now at 1.77% vs. 10-year at 2.03%.
Oil surged in the fortnight, as geopolitical tensions in the Middle East continued to ratchet higher. Prices rose significantly thanks to a sharp fall in inventories, driven by the bigger-than-expected drop in Venezuela's production, as well as sabre-rattling between Iran and the US following the shooting down of an American drone in Iranian airspace or over international waters (depending on whose version you believe).
The real star this month, however, was gold which rose 8%. It is unusual to see both gold – a "safe-haven" asset – and equities rising in tandem – this is owing to expected easing of monetary policy by Central Banks which could lead to currency devaluations.
Despite the possibility of a Boris Johnson premiership (which could lead to a hard Brexit), sterling rose over the fortnight, recovering most of its losses against the US dollar for the year. The currency benefitted from the Bank of England's decision to hold rates steady at 0.75% (Governor Carney also talked up the possibility of future rate hikes in contrast to the other major Central Banks), the broad rally in riskier assets, as well as reduced Brexit chatter whilst politicians were distracted by the Conservative Party leadership race.
Economic Update
News from the G20 in Osaka reached us just in time for this fortnightly bulletin: Presidents Xi and Trump have agreed a temporary trade truce. No further tariffs will be implemented for now, in return for substantial purchases of American agricultural products by China. The US olive branch extended even to Huawei, with a promise of lifting sanctions for the embattled Chinese telecoms provider. This move has aggravated some of the more hard-line American politicians who would prefer to continue restricting Huawei's access based on national security concerns. Notwithstanding, Donald Trump's strategy seems to have paid off, for the time being at least, with equity markets rallying on the back of the news.  However, the corporate earnings season looms and although expectations are low, disappointing company news could lead to a wobble in markets.
In this context, it should be noted how well equity markets have performed year to date and throughout June. The month ended on a high with the S&P 500 having its best June since 1955 and global bond and stock markets reportedly increased by $4.5trn in the month. The US economic expansion is now the longest in over a century, entering its 121st month since the end of the 2009 recession. The past ten years have seen global authorities go to extraordinary lengths to protect the recovery, and their efforts have resulted in equally remarkable asset price rises. Monetary authorities are once again voicing their concerns with low inflation prompting dovish comments from Central Bank leaders. In Europe, Mario Draghi's message is clear: if economic conditions do not improve shortly, the European Central Bank is standing by to cut rates or re-introduce quantitative easing measures. Following his statement, European bond yields tumbled to extremely low levels, with German 10-year bunds currently trading at an all-time low of minus 0.33%, as well as France touching the fabled 0% on their 10-year bond.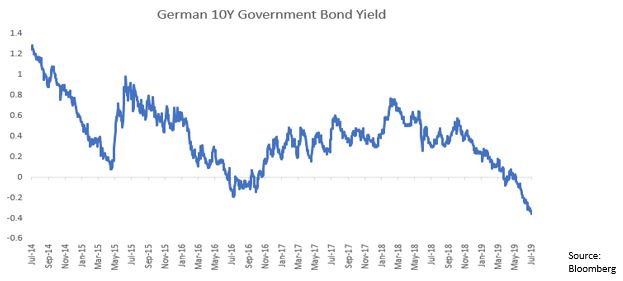 Download the bulletin here.