Tactical Positioning
Earlier this year we reported that the share prices of companies that will benefit from the end of COVID restrictions were performing well at the expense of quality growth companies that had performed well over the past few years. The share prices of these cyclical companies, many of which were priced on low valuation multiples, were benefitting from renewed interest from investors. This interest was encouraged by the strong economic recovery resulting from the easing of restrictions and concerns that high inflation, with consequently higher bond yields, may hit the valuations of long-term growth companies. We also highlighted that although we had increased our clients' exposure to these companies, we had kept our quality growth bias in portfolios. Over the last month, market sentiment has changed. Even though reported inflation has increased, the reaction by central banks has led investors to believe that interest rates will only increase gradually, that we are near the peak in inflation and that longer term interest rates will not need to rise significantly, or at all, from here. This has led to a strong recovery in the share prices of many growth companies, an outperformance of long-term growth equities over lower priced value or cyclical companies and has driven the S&P 500 and NASDAQ to new all-time highs. Although we are pleased to see these moves, we are not convinced that inflation will be as easy to control as the market is currently anticipating and are keeping our feet in both camps with the current mix of growth, cyclical and value equities that we have in portfolios.
Market Moves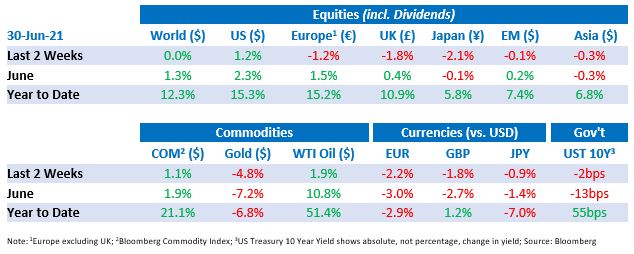 In our last Bulletin, we pointed out the investment risks of rising inflation. However, a confusing combination of comments, some hawkish pointing to the need for tighter monetary policy and others dovish, from US and UK central banks, along with some underwhelming rate decisions, helped some risk assets to tiptoe higher over the final two weeks of the first half of 2021. This enabled the record books to be re-written once again, with the technology-focused NASDAQ hitting a fresh high on 28th June (14,500 points) and the S&P 500 also reaching yet another record high on 29th June (4,291 points). Oil also reached fresh 2-year highs and is now up 50% so far this year, marking an incredible rally for the commodity.
The Federal Reserve ("Fed"), having historically hinted that rates in the US were unlikely to move until 2023, signalled that rates would indeed rise in 2023, upgrading their forecasts slightly to two rate hikes (of 25bps each) instead of the zero hikes quoted in the last Federal Open Market Committee ("FOMC") meeting. US bond yields initially rose on the news that interest rates are set to rise and the yield on the ten-year treasury rose +8.3bps and at one-point, +11bps shortly after the FOMC's announcement. However, shortly afterwards yields fell again as investors seem to be convinced (as are the Fed) that the jump in inflation will be transitory and are not unnerved by the short-term increase, despite headline consumer price inflation having reached 5%. It's been a challenging year trying to predict the direction of inflation and when asked about the outlook for inflation, St. Louis President Bullard, a non-voting dovish Fed Speaker normally keen to keep policy loose to support the economy, said, "No one really knows how this is all going to unfold. We have to be ready for the idea that there is upside risk to inflation and for it to go higher".
High hopes of a lockdown-free summer were tarnished by cases of the Delta variant of the coronavirus (originally identified in India) continuing to grow and forcing some countries to increase social and travel restrictions. Lockdown limits came back into play for the likes of New Zealand, Australia and Taiwan, whilst in the UK, the number of daily cases was recorded at 20,000, marking a 73% increase on the previous week's figures. The silver lining is that over 80% of adults in the UK have now received their first vaccine dose and according to John Hopkins University & Medicine Coronavirus Resource Centre, just under 80m vaccines have now been administered. The increase in travel restrictions led to oil prices falling from their recent two year high, after a run of five successive weekly gains.
Bitcoin fell to its lowest level ($32,582) since the beginning of 2021, with its less well-known peers following in the same direction. Much like the UK's recently departed Health Secretary, Bitcoin could well be the fallen angel of 2021. Binance, one of the world's largest cryptocurrency exchanges, domiciled in the Cayman Islands, hit headlines after the UK's regulator, the Financial Conduct Authority banned all regulated activities within its UK entity, restricting the company from operating its payments system, meaning some customers were temporarily unable to make incoming and outgoing payments. The rationale behind the UK watchdog's enforcement is largely due to concerns over illegitimate activities such as money laundering and fraud.
Economic Updates
In terms of data, the weekly initial jobless claims in the US came in higher than expected at 412k vs. 360k expected. Initial jobless claims are filed at the point at which an individual separates from their employer and becomes unemployed. This figure broke the run of six successive weekly declines in the statistic. However, the unemployment rate fell to 4.7%, which was in line with expectations.
In the Euro area unemployment also fell slightly more than expected from 8.1% to 7.9% and the strength of optimism was reflected in the European Commission's economic sentiment indicator that was above expectations, hitting a 21-year high of 117.9. Inflation as measured by the Consumer Price Index fell 0.1% to 1.9%.
The Bank of England's decision to leave the base rate at 0.1% was as expected and concluded by an overwhelmingly decisive vote from the Monetary Policy Committee of 8-1. Looking more closely at the minutes, the Committee are confident that "UK inflation expectations remain well anchored". Sterling fell slightly on the news.
Download the bulletin here.