Tactical Positioning
In our 15th July Bulletin, we commented that positive sentiment towards equity markets might moderate as trading volumes decline and central bank announcements reduce over the holiday period. In the event, things have become more lively recently as moves by Chinese authorities to limit the ability of companies to generate profits in the education sector of the economy caused a pull-back in Asian markets with education and technology-related companies taking much of the impact. We have a full weighting to the region and intend to keep exposure given that growth remains robust and valuations comparatively attractive.
We enter August with evidence that corporate earnings in Europe and the USA are growing strongly and that investors have been adding to their equity exposure, as reflected by record inflows into equity funds. As we have highlighted previously, although the negative economic impact of Covid-19 has started to reduce, a short term pause in the rise in equity prices at around current levels would not surprise us.
Market Moves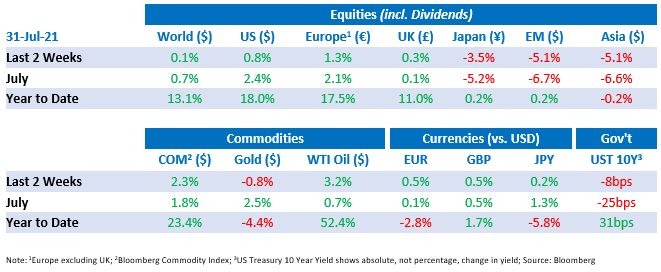 Despite increased numbers of Covid-19 cases in all G7 countries, except the UK, and a significant setback in Asian equities, the MSCI World equity index finished the fortnight just off its all-time high, supported by comments from Federal Reserve chairman Jerome Powell and strong corporate earnings.
In the US both monetary policy and fiscal policy remains supportive of the economy. Powell announced that the Federal Open Markets Committee ("FOMC") had voted unanimously to keep interest rates unchanged and to maintain asset purchases at $120bn a month. He said they had taken a "first deep dive" into how to taper asset purchases but had not decided how to do this. On the fiscal side, prior to the end of the fortnight hopes were high that Congress would be able to agree a boost to spending in the form of the infrastructure bill and just after the month end, in a rare Sunday session, Senators unveiled a bill committing to $1.2 trillion of infrastructure spending over eight years.
In Europe monetary policy also remains supportive. The European Central Bank announced that it expects interest rates to remain "at their present or lower levels until it sees inflation reaching two per cent well ahead of the end of its projection horizon and durably for the rest of the projection horizon".
In an attempt to reduce vaccination hesitancy in the US, President Biden called on state and local governments to offer residents $100 to get vaccinated. This came on the back of data from the Centers for Disease Control and Prevention ("CDC") that the Delta variant now represents 83% of all Covid-19 cases in the country. In France, President Macron's announcement that 'health passes' would be required to go out to bars and restaurants saw a record 880,000 vaccines administered in one day, leading to vaccination rates twice as high as those in Germany and Italy.
Increasingly investors have become concerned that the Chinese government is adopting a tougher approach to regulating companies as evidenced by the difficulty that Alibaba, its leader Jack Ma and its Ant Financial subsidiary have had over the latter's plans to list on the stock market. During the fortnight, Chinese regulators issued stringent new regulations for the private education industry. The rules include requiring tutoring and education services firms to become non-profit organisations, banned core-curriculum tutoring during weekends and vacations, and forbade the hiring of foreigners outside of China to teach remotely. This led the Hang Seng Technology index to fall around 16% over three days. Subsequent to this, officials tried to calm market concerns by commenting that these restrictions were related to the education sector and did not reflect a wider regulatory crackdown, resulting in a partial recovery in the market. At the end of the fortnight, however, the Hang Seng Technology index remains down 38% from its peak earlier in the year.
The White House joined the EU in accusing groups associated with the Chinese government of cyberattacks on the Microsoft Exchange, in addition to numerous "malicious cyber activities" carried out by Beijing's leadership.
Economic Updates
The International Monetary Fund reiterated its 2021 global growth forecast of 6.0% in its World Economic Outlook update and upgraded its forecast for growth in 2022 to 4.9% from 4.4% previously.
In the US, after achieving an annualised rate of growth of 6.5%, inflation adjusted GDP has now surpassed the pre-Covid-19 peak in the second quarter of the year. In the eurozone, GDP grew by a less impressive 2% in the second quarter with Germany growing by 1.5%. Meanwhile, core inflation in the Euro Area increased to 0.7% month-on-month bringing the year-on-year headline number to 2.2%, slightly higher than had been expected.
OPEC and its allies came to an agreement to increase oil production that led to a significant one-day slump in oil prices with prices down around 7% in a day, the worst daily performance since March. However, this move was short-lived and prices ended the fortnight higher. Commodity prices as a whole were also higher with Bloomberg's Commodity Spot index hitting its highest level in over a decade. Coffee drinkers may want to stock up given the 14% increase in coffee futures over the fortnight as frost impacted the harvest in Brazil.
US initial jobless claims for the week to July 24 fell by less-than-expected at 400k whilst in Europe, German unemployment fell by 91k in July, which resulted in the unemployment rate hitting a post-pandemic low of 5.7%.
Download the bulletin here.