Tactical Positioning
Despite market volatility, we have not changed our tactical positioning during the past fortnight.
Investors have been reminded in October of a simple fact: equity markets are volatile. We show below the various peak-to-trough drawdowns in the US market since 2010. The red shows a time when the US equity market fell, with the depth of the spike illustrating the maximum fall from the previous peak.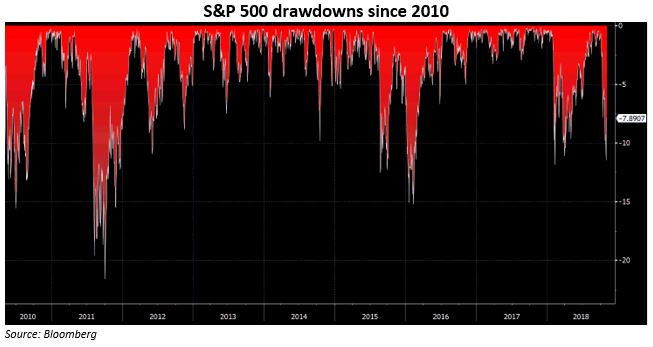 Clearly, a fall of 10% in the US market is not unusual (we saw a slightly larger fall in January this year) – and is often followed by a quick recovery.  Investors therefore need to decide whether to react to such pullbacks. As we see little change in the outlook for fundamental market drivers such as growth, profitability and interest rates we retain our stance of cautious optimism. However, we continue to look out for indicators, such as rising wage inflation, which may cause us to review.
Market moves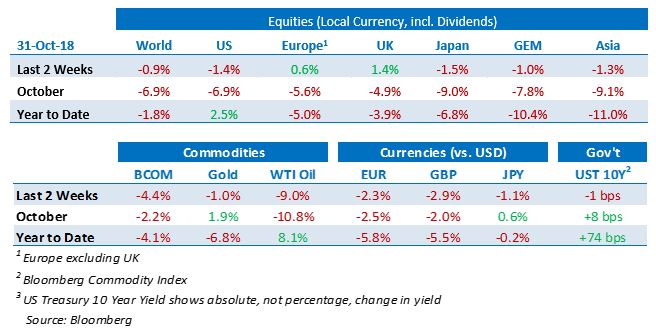 Equity markets experienced another turbulent fortnight, initially falling sharply before regaining some composure towards the end of the month. Concerns at the beginning of October, about rising interest rates and bond yields, morphed as the month progressed into fears about a slowdown in global growth. In the US, consumer staples and utilities held up well, whilst technology stocks, darlings of the past few years, experienced a more volatile period. A number of companies were severely punished for marginal top-line misses in their third quarter revenues or earnings. Amazon beat its earnings per share forecast by a remarkable 85%, but still saw its share price fall more than 7% in a single session owing to 1% softer-than-expected revenue growth. Although not the source of too much immediate pain for the technology giants, a new digital services tax in the UK threatened to set an unwanted precedent in other countries. During the fortnight, the S&P 500 briefly dipped into correction territory, down over 10% from its all-time peak on 20th September 2018. It also recorded its fourth daily swing greater than 3% in 2018, having only moved by this much four times from early 2012 to the end of 2016. The US dollar, benefited from its status as a safe haven asset and strengthened against all major currencies, acting as a headwind for Wall Street.
European markets rose modestly over the fortnight, with overseas earners benefiting from a weaker euro and investors proving resilient in the face of geopolitical issues. The European Commission's rejection of Italy's proposed budget, on the grounds that it broke EU rules on public spending, served to heighten tensions between the coalition government in Rome and European authorities. Italian 10-year government bonds spiked to 3.69%, the highest level since 2014, before easing back down to 3.43% by the end of the month. Matteo Salvini, Deputy Prime Minister and leader of the Northern League, vowed not to amend the budget by "one comma" and accused the EU of "not attacking a government but a people". There is now a growing tide of large Italian investors looking to move capital out of Italy. Elsewhere in Europe, Angela Merkel announced her intention to step down as CDU leader at the year-end and as Chancellor of Germany at the next general election in 2021.
A changing of the guard also took place in Brazil, with the presidential election victory of the right-wing candidate, Jair Bolsonaro. He successfully rode a wave of populist discontent and, as a former paratrooper, became the first serving or former member of the armed forces to hold high office in Brazil since the military dictatorship of 1964-85. Bolsonaro's pro-business rhetoric initially went down well with markets.
Elsewhere in the Americas, spirits were high in certain segments of Canadian society, after it became the second country in the world after Uruguay, to legalise recreational Marijuana.
In the commodities markets, the price of oil (WTI) dramatically slumped 9.0% to $65.31 per barrel, its lowest reading since mid-August. Saudi Arabia announced that OPEC is in "produce as much as you can" mode and that it "will meet any demand that materialises". This dovish message, coupled with evidence of rising global inventories and rumours that China and India are prepared to defy US sanctions on Iran, sent oil prices sharply downwards. The continued investigation into the brutal death of dissident journalist, Jamal Khashoggi, and the decision by several high-profile figures to pull out of the Riyadh investment forum, dubbed "Davos in the desert", ensured that the spot light remained squarely focused on Saudi Arabia.
Economic Updates
Economic data in the US was generally robust. Third quarter GDP, for example, came in at 3.5% versus 3.4% expected and consumer confidence reached a 17-year high, at 137.9 versus 135.9 expected. This was supported by a 4% year-on-year rise in consumer spending versus 3.0% expected, an important reading given that personal consumption accounts for around 70% of US economic growth and has recently offset declining business investment. The flash composite Purchasing Manufacturers Index (PMI) provided another positive signal coming in at 54.8 versus 53.9. Housing data, on the other hand, disappointed with the ratio of current inventory to sales rising to 7.1%, the highest level since 2011; a possible indication of supply overhang and/or cooling demand. President Trump expressed his displeasure at the pace of US interest rate rises and at his choice of Federal Reserve Chair, Jerome Powell, mocking him for "look[ing] like he is happy raising interest rates".
On this side of the Atlantic, the picture was less positive, as economic growth and business confidence faltered. In the Euro area, third quarter GDP came in at 0.2% versus 0.4% expected and the flash composite PMI fell short of expectations at 52.7 versus 53.9.  At a more granular level, the manufacturing PMI recorded 52.1 versus 53.0 expected and the services PMI similarly underwhelmed, at 53.3 versus 54.5. Both the core and periphery of the Euro area were responsible for these poor data releases. In Germany, for example, manufacturing orders fell to 48.2, below the expansionary mark of 50.0, for the first time since November 2014. Although new emission standards have clearly hurt the much vaunted German car industry, a more concerning catalyst could be weakening demand from China. Moving to the periphery, the Italian economy failed to expand for the first time since 2014, as GDP came in at 0.0% versus 0.2% expected. Italy received another blow, with Moody's downgrading its sovereign debt to the last level of investment grade and Standard & Poor's lowering its outlook to negative.
The rate of Chinese growth seemed to stutter as the latest composite PMI came in at 53.1 versus 54.1 expected. This included both a disappointing manufacturing PMI, which was confirmed at 50.2 and services PMI, at 53.9 versus 54.6 expected. A concerning part of the manufacturing PMI included new export orders falling from 48.0 to 46.9, the fifth consecutive month below 50, representing a contraction of demand. Furthermore, third quarter GDP fell to the lowest level since the global financial crisis, at 6.5% year-on-year versus 6.6% expected. In an attempt to quash fears regarding the long-term sustainability of economic growth, the government and central bank stressed the transitory nature of these problems and their conviction in current growth forecasts. The official narrative laying part of the blame on the extended October holiday ignored any fallout from escalating US-Chinese trade tensions and weaker domestic consumer demand, including car sales falling 7.1% year-on-year, the steepest decline since 2002. Pressure is mounting on Chinese authorities to support the yuan, with the White House openly hostile about the currency's depreciation against the US dollar to the lows of May 2008.
Download the bulletin here.