Tactical Positioning
Investment sentiment has started to recover in recent days and has facilitated a partial recovery in markets. This has been supported by hopes that slowing growth may enable interest rates to peak at relatively low levels and some positive company news from the recent results season. Time will tell whether this recovery is the start of the next prolonged upswing in markets or just a pause in an otherwise uncertain and volatile market.
We have trimmed risk in many portfolios in recent months by reducing exposure to some of the areas we consider more vulnerable and adding to areas such as value-style managers and lower risk tactical managers and hedge funds. At present we anticipate keeping allocations close to current levels over the coming months and are not looking to reduce risk further nor are we starting to add back to some of our risk positions yet. That said, if the environment changes we will, as always, have to reassess.
Market Moves

Bear market territory
In the first week of the fortnight, the US market fell for the 7th week in a row. This is the most weekly declines since the bursting of the dotcom bubble in 2001 and the market was briefly 20% down on its previous peak reached late last year… A 20% fall is frequently used to define a bear market. It has rallied by over 6% since then reducing the year-to-date fall to 12.7%.
The main reason for the recovery came partly from improved earnings updates from US retailers and partly from a reinterpretation of the Federal Reserve's possible policy path, with market participants hoping that interest rates will peak at relatively low levels.
Who and how to pay for fuel
Oil prices had a strong end to the fortnight after EU leaders agreed to reduce imports of Russian oil by 90% by the end of the year. Brent crude ended above $120 a barrel and will add pressure to already high inflation numbers.
Across Europe governments are enacting measures to reduce the impact of the increase in fuel bills on consumers through a combination of price restrictions and additional funding for consumers. During the fortnight, the UK Chancellor of the Exchequer, Rishi Sunak, announced a £15bn windfall tax on oil and gas firms with the money being used to help fund measures to ease the cost-of-living crisis.
EU interest rates will have to increase too
In Europe, where talk of rate rises has been more muted, the Dutch Central Bank Governor, Klaas Knot, became the first General Council member to advocate a 50-basis point (half a percent) rate hike. The European Central Bank's chief Economist commented that 'the discussion will be had' on the subject of a 50bp hike at next week's meeting.
Chinese growth could fall to a 46-year low
Although isolation restrictions have started to ease, COVID related constraints continue to hamper Chinese growth. Chinese Premier Li Keqiang commented that his country's economic problems, "to a certain extent are greater than when the epidemic hit us severely in 2020". This is in line with estimates by Deutsche Bank who expect Chinese GDP growth to slow to a 46 year low of 3.3% in 2022.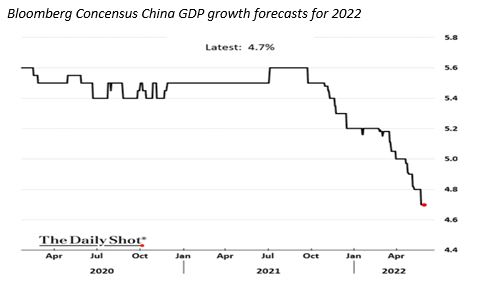 US Secretary of State, Anthony Blinken, updated the government's approach to US/China economic policy last week when he noted that the Ukraine conflict was secondary to the US China relationship. Meanwhile, a group of bi-partisan senators writing to President Biden urged him to keep tariffs on China despite the pressures on prices of goods and materials.
Economic data
Inflation data continues to disappoint. The latest Euro Area CPI ("consumer price index") flash estimate of 8.1% was higher than the 7.8% expected. The May inflation print for Germany came in at 8.7% vs 8.1% expected, its highest level since the 1950s, and Spain also saw May inflation at 8.5% vs 8.3% expected.
In the US the Conference Board's consumer confidence indicator for May was down on the previous month at 106.4 but it was higher than the consensus forecast of 103.6.
In Japan manufacturing expanded at the slowest pace in three months in May with the PMI ("purchasing managers index") slipping from 53.5 in April to 53.2.
Congratulations to the Queen on her Platinum Jubilee.
Download the bulletin here.